We're excited to announce that Chicagoland Skydiving Center will be getting a huge addition this spring. After more than 2 years of planning and negotiations with the City of Rochelle, CSC received unanimous City Council approval for the construction of a 4 acre family entertainment venue.
This is the final piece of the puzzle that we envisioned when we originally built Chicagoland Skydiving Center. Now, skydivers and local Rochelle residents alike can enjoy this clothing optional water park complete with a 150,000 gallon, 3' deep lazy river that winds over 1,000' in length. In addition, there will be several slides, a wave pool, and plenty of food and drink options.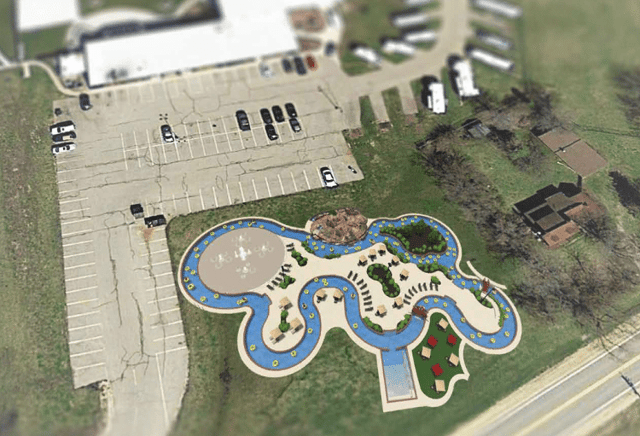 We're excited about the economic boom that this project will undoubtedly create for Rochelle and the surrounding communities. Being a cash-only facility, we don't plan on generating much tax revenue, but we certainly expect swim suit and floaty sales at Wal-Mart to see a dramatic spike which will ultimately help generate tens of dollars for the local community.
As always, we try use local contractors to support small businesses. Fehr-Graham Engineering & Environmental has been involved in the design process and will be there for us throughout the construction phase. Fehr-Graham's Noah Carmichael was instrumental in the decision to make this a clothing optional venue for families to enjoy. He is so confident that this will succeed, he's committed $750,000.00 in funding.
The Flight Deck Bar & Grill will be adding a swim-up bar as well. Ashley Bick, the Flight Deck's owner and GM, said that she was reluctant to hire topless bartenders, but then finally agreed to it because Shea Carpenter asked to take all the shifts in the pool. I know I speak for many of us when I say I'm excited to see that!
We hope you are as excited about this project as we are. With the amazing weather we have in the Midwest, we expect to have 15 - 20 days a year of business. So, prices might may be a bit high, but it will be worth it.