Skydivers have been challenging conventional dive practices for years— and some pros have achieved infamy.
Here are a few skydiving records that stand out for their never-before-achieved glory, from truly remarkable stunts to oddly incredible feats:
Oldest Skydiver
An Australian woman named Irene O'Shea holds the current record for the oldest skydiver in the world. O'Shea took her first skydive on her 100th birthday, and vowed to take one every year until her passing. What makes this record even cooler is that O'Shea jumped to help her favorite charity, Motor Neurone Disease Association of South Australia, in honor of her daughter's fight with the disease.
First to Jump & Land Without a Parachute
Forty two-year old Luke Aikins became the first skydiver to land without a parachute. In 2016, he leapt from an airplane at 25,000 feet and withstood two minutes of freefall before landing in 100x100-foot net. At the time, Aikins had made over 18,000 skydives, and was ready for the challenge!
Highest Tandem Parachute Skydive
In 2017, four skydivers achieved the greatest altitude decention above sea level while in tandem strappings, according to the Guinness Book of World Records. These skydivers dove from 9719.59 meters above ground, tied in pairs. That's over 31,888 feet, and quite the accomplishment when compared to our highest tandem jump at CSC of 18,000 feet!
Most Magic Tricks Performed in a Single Skydive
Martin Rees of the UK performed eleven successful magic tricks during his skydiving experience in 2017. From the classic card tricks to disappearing acts, Rees' stunts were captured on video during his 15,000 dive; check them out!
Fastest Time to Complete a Skydive on 6 Continents
Martin Downs raced across the globe to complete six different jumps in 8 days, 7 hours and 30 minutes. He made skydives in Africa, Europe, Spain, Venezuela, Australia and more! Because of the complicated traveling required to accomplish this feat, Downs 2008 record still holds strong today.
Most Tandem Indoor Skydives in 8 Hours
A team at iFly Singapore took 227 incredible dives in eight short hours. Each skydive ascended over three metres before falling. This epic 2016 record requires a full day of repetitious determination, and will likely be hard to beat.
Largest Sequential Female Freefall Formation
In October of 2014, a large group of women prepared for freefall. One hundred and seventeen women from all across the world leapt 7,000 feet above the ground together, forming a snowflake-shaped pattern. Their brightly colored jumpsuits made for one impressive picture!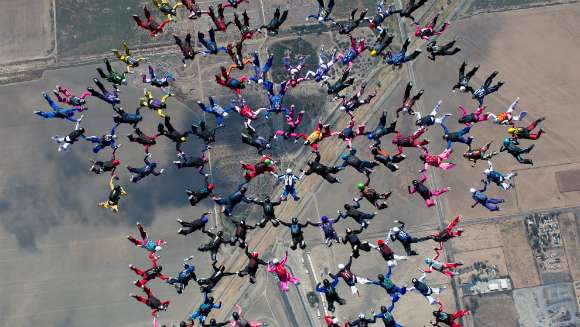 Photo courtesy of guinnessworldrecords.com
First Full Wedding Party Skydiving Marriage
In 2012, two thrill-seeking jumps said "I Do" in the air. Emily Lucero and Allan Toole committed to one another during a 13,000 feet skydive, saying their vows in the plane and jumping into their newly wedded life. Best of all, their entire bridal and groom's party jumped too to commemorate the special day!
Fastest Speed During Skydive
Henrik Raimer was the fastest male skydiver recorded during a freefall competition. He reached 373.6 mph while in the air during the FAI World Championships in Chicago, Illinois in September of 2016.
Many confused his record with Felix Baumgartne iconic stratosphere leap in Roswell, New Mexico. Baumgartne hit a maximum speed of 833.9 mph during freefall, but he leapt from a balloon (not a plane) and had to wear a spacesuit to survive the -70 degree temperatures and low pressure at that extreme altitude. While technically Baumgartne did fall in the sky, it was closer to a "space dive" than a traditional skydive.
First Tattoo While Skydiving
Nadine Elaine got a tattoo mid-air! Her tattoo artist, Shannon Claydon, took a portable tattoo gun powered by AA batteries on their skydive and imprinted the word "AHHH" on Elaine's wrist during the freefall. Luckily they had the help of a few tandem skydivers to hold them steady during this 2015 fall to get the job done successfully.
Ready to Skydive Yourself?
After reading all these wild skydiving records, are you ready to take your first freefall? Beginners always start with a tandem dive, accompanied by a certified instructor.
Learn more about tandem skydiving by checking out our handy guide, and start planning your big jump today.