If you've never been skydiving, this is the time to start.
At CSC, we have a five-star rating on Google, and more than 1,897 reviews. That's a lot of people who have jumped with us, and had a great time.
Here's what actual customers have had to say about their skydiving experiences when they took their leap of faith with CSC. Check out their reviews to learn about why they jumped, what they appreciated most about the experience, and -- most importantly -- why they felt safe enough to jump with us.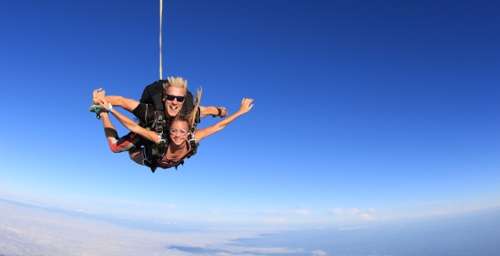 Testimonial #1: Appreciating the CSC Staff
"This was truly a grand experience! I would highly recommend this professional, safe and welcoming environment! What an absolute blast! Huge thank you to Tamale, for hyping us up with confidence and excitement! Special appreciation for Eric, who made my first time unforgettable! I can't wait to return real soon." -- Katherine O'Connor
This testimonial is great for showing the value of all the people at CSC who work hard to make sure a skydive is fun and safe. It's more than just the instructor who matters. It's also the social media manager, our customer service team, and all the staff who work behind the scenes, to create an incredible experience.
Testimonial #2: Experiencing More Than a Skydive
"We arrived early and enjoyed snacks at the Flight Deck Bar and Grill....great food! Beautiful facility, staff makes you feel so comfortable and welcome. They explain everything they do and why; give thorough instructions and completely prepare you for your jump. And what an amazing, incredible experience!! I highly recommend everyone do this at least once!" -- Kathi De Armas
If you're looking for an excellent dropzone, we've got you covered at CSC! But that's not all you'll get when you jump with us. You can also unwind at our on-site bar and grille, too. And with RV parking and campus-wide Wi-Fi, we've got your needs covered.
Testimonial #3: Appreciating the Instructors
"Most incredible and amazing experience. Jenny is a pro- instructor with the best communication skills to put all at ease. Jenny made my first experience truly memorable and now I am ready to do another jump. I will never forget this experience." -- Suzanne Mancini
Our instructors have been with CSC for a long time! We hire more when we need them, but many of our instructors have worked with hundreds, and even thousands, of jumpers. Skydiving is another day at the office for them, and it's clear that they love their jobs. Passion, mixed with professionalism and longevity, makes CSC a hotspot for jumpers who know they'll have a great experience!
Testimonial #4: Creating Lifelong Memories
"Klash was an incredible instructor, he made my first experience very comfortable so that I could enjoy the thrill of the skydive. Cody did a fantastic video, to re-live those moments. Thanks to Fig for his super customer service, explanations and answers to our many questions. You all made this experience for my wife & I an incredible 30th wedding adventure. As I said before the jump "I took a leap of faith 30 years ago, and today did it again literally" -- Mark Mancini
No matter what kinds of things you experience in life, you never really lose your sense of adventure! This testimonial is great proof of that, and it shows the love of two people making an enormous decision together -- again.
They trusted CSC with their safety, a new adventure, and the ability to make their 30th anniversary something unforgettable! It's not just the memories in their head that they'll keep, but the video from our team, so they can relive this moment over and over again. Here's to another 30 years!
Testimonial #5: Celebrating Life's Big Occasions
"What a great team. The best birthday gift ever. Thank you Jenny you and the team at CSC made my day. Had a fabulous day and finished my day at the sky bar for a wonderful lunch." -- Deedee Peterson
Birthdays are another great occasion everyone loves to mark, and doing something unique is an amazing way to do that. How great would it be, to be able to say "my first skydiving experience? It was for my birthday!" A lot of skydivers choose to make their first jump with us on their birthday. They'll get a lasting memory and a video of their time with CSC that they can re-watch again and again.
Testimonial #6: Coming Back for More
"My first ever skydive went so great I went again a week later! Love the people and the facility!" -- Chelsea Gard
For some people, a first skydive is a lot like a first tattoo. Once you do it once, you're going to want to do it again. Fortunately, CSC has a great staff that recognizes the customers who jump with us over and over again. We know they choose us for a reason, and we want to make sure they feel welcome. Those long-lasting relationships and personal touches make CSC a lot more than a dropzone -- it's a destination!
Testimonial #7: Feeling Safe When Jumping from an Airplane
"Great experience. Both me and my wife felt safe on our tandem skydive. Great professionals, great place, great service, and an awesome time. Loved it so much that I went a second time. Thank you Adam and Zach and a big thank you from my wife to Jenny!!!!" -- Lester River
The #1 most important thing we do at CSC is enabling jumpers to skydive safely, and to feel safe, too! Falling to earth from more than 9000 feet is enough of an adventure, without worrying about something going wrong.
That's why we've been open for more than 60 years, and have a flawless record for safety. It's a big effort, but it's completely worth it to provide a safe and adventurous experience for our customers.
Ready to Take Your Leap of Faith?
Have you been thinking about your first skydive? Jump with us at CSC, and discover why more than 1,100 are raving about us on Google. It's truly an unforgettable experience. Book your tandem jump today!