Ready to go skydiving, but not sure where to go? At CSC, we're here to give you a great skydiving experience, whether it's your first jump or you're an experienced pro! We understand that you want to be sure you're choosing the right place for your next adventure.
That's why we're happy to share our reviews with you. We're proud of the CSC reputation, and we want to make sure you feel confident in trusting us with your leap of faith.
We've been in the skydiving business for more than 50 years, and that's let us create a great reputation in the industry and with the public. Want to learn more about us before you book your skydiving adventure? Here's where you can read all about us, and see why our customers are happy with our services!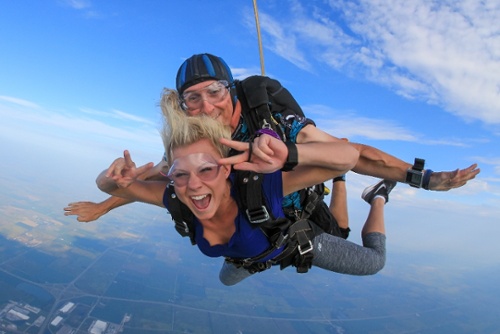 Google reviews are an important way to get information. They're trustworthy, and you can find a lot of different opinions there. It's not only popular, but it's readily available. Since anyone can leave a review, you know you're getting a good representation of people who've come to us for their skydiving adventures.
A lot of people rely on Google reviews to tell them whether a business is one they can trust or not. It's a great site to rely on, and you can see what people say, how many reviews they've written, and how long ago they visited with us. We're focused on making sure we give quality and value, so people will leave honest reviews that help others decide to choose us, too.
Not only does Facebook show our reviews from satisfied skydivers, but it's also a good community where people come together. They talk about the skydives they've been on with us, share images, and much more. Want to ask questions? Nervous, and want to find out how other people conquered that? Facebook can help!
While you're there, you can see what past customers are saying about how much fun they had skydiving with us at CSC. From the number of high reviews we have, you can see our past customers like what we offer. When you come to us and jump, you can share your experience with others on the site, and encourage even more people to check out how much fun it really is to skydive.
TripAdvisor is one of the most powerful and commonly used platforms by people who are serious about travel reviews. Those reviews are often very detailed, and they give some great information about the places the reviewers have visited. We're proud and happy that we have such great reviews on sites like this one! Since we know it's not easy to keep such high ratings, we take the value of that very seriously, every time a customer chooses to trust us with their skydiving experience.
It's a favorite site with travel bloggers and earnest reviewers, who are committed to giving good information about their experience. It's not easy to get a high score on this site, and our rating there is a great endorsement of the CSC reputation. We want to make sure our customers have a great experience with us!
As the gold standard of review sites, Yelp has a lot to offer anyone who wants to know more about a company. The CSC reputation on there is a powerful one, and we work really hard to keep our ratings high. We're among some of the best-reviewed companies on the site, so you know you're getting the value you expect from us. Since there are millions of businesses listed with Yelp, our high rating is a huge accomplishment and something we're very proud of.
Our Reviews Tell a Great Story
On average, the four review sites have us at a rating of 4.825/5, over more than 2,300 reviews of our skydiving services and overall campus experience. We're so much more than just a dropzone, and you can enjoy our bar and grille, too, along with Wi-Fi and RV parking. Whether you're coming from down the street or far away, we're committed to making your skydiving experience an enjoyable and memorable one.
So many happy customers say a lot more about CSC's reputation than we ever could. We're happy that they're happy, and our reputation has been a hard-earned one full of dedication, fun, and safety for every skydiver who comes to visit us.
Ready to Book Your Skydiving Adventure?
What are you waiting for? It's time you experienced the thrill of skydiving, from a company you can trust with your safety. We're committed to quality, and to ensuring that you have a great time on your adventure. Whether you've jumped before, or you've just always wanted to, we're here for you. Book a jump today, and let us help you experience the unforgettable thrill of skydiving!