Skydiving operators throughout the country are concerned about the decreasing price trend for tandem skydives. Many point to the prominence of daily deal websites for this decline. Groupon is the most popular in this category, and many dropzones rely on it as their core marketing strategy these days. It's a problem, pushing our industry to circle the drain and price ourselves out of business.
How did we get here? Why can't we break the cycle? Well, I may have started this mess, and I'm truly sorry. Chicagoland Skydiving Center has always embraced change and pushed to try new things.
Back in 2009, I received a phone call from a guy named Bob Matteson at a Chicago-based tech start-up called Groupon. He pitched an idea to me that seemed absolutely ridiculous. No skydiving operation had ever worked with Groupon and I was intrigued by the idea of being first on a new marketing platform. At that time, Groupon wasn't focused on higher-priced experience offerings. And the site only featured one deal per day - not the plethora of options available all the time now. And the deals were truly time limited. When time ran out, users actually missed the deal.
Bob was very persistent and I finally caved and told him I'd give it a shot because I knew they would only sell 10 - 20 tandems for us. Why not throw the guy a bone? At least he will stop calling me. A part of me thought "I must be the only idiot willing to try this."
I clearly remember the day I walked into our Hinckley location the day the first skydiving Groupon went live. Nearly the entire staff was in the office helping answer phones. We were being inundated with calls because of the Groupon campaign. It was exciting and terrifying all at the same time. We sold 2,107 tandem skydives in 3 days! We were intoxicated by the amount of business we were getting.
On the front-end, we were seeing huge cash injections. Months later, we would begin dying a slow death as we struggled to make ends meet by the end of the redemption period.
This is where the slippery slope begins.
I don't need to tell you what happened after that. Groupon expanded, capitalizing on consumer purchase behavior shifting online. They began calling every dropzone in every city they served, and the rest is history. "We only make money when you make money," the sales people say.
Many dropzones became addicted to this cycle. They do not have any traditional forms of marketing in place to drive business, so they rely on third parties to drive traffic. Higher volume at a lower margin is still worth it, right? Once the money runs low, they still have redemptions coming in the door. What now? Run another campaign to increase cash flow.
The only way to make money on these deals is to pray that a large percentage of the buyers do not redeem. Many have been lucky, but is that a solid approach to building your business? In addition, how are most dropzones showing un-redeemed sales on the books? My guess is that many are showing Groupon revenue as income. While this may not be an intentional act of financial fraud, the IRS isn't going to see it that way in an audit. In fact, that revenue needs to be recorded in the books as unearned income and remain as a liability until that redemption is made. Still hoping buyers don't redeem?
What do we do now?
Groupon specifically isn't the problem. With a variety of daily deal companies in every major market helping lower the barrier to entry, new dropzones are popping up everywhere. Marketing was once a significant hurdle in starting a business, but this new company essentially created a business model for those without the knowledge or resources to get started. Since 2009, we've seen a large spike in the number of skydiving operations in the United States and many of them rely solely on daily deal companies to fill the funnel.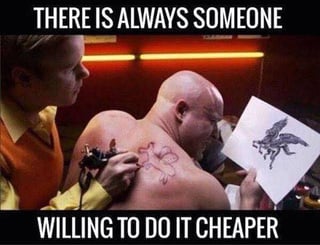 Only time will tell if this is sustainable, but my larger fear is that we're focusing our industry on quantity and not quality. "How many tandems did you do last year?" is on every instructor and DZO's lips. But shouldn't we be asking how much money we're making? Skydiving is fun, but it's a business.
I want to make something clear, because this conversation always leads here. I'm in no way suggesting dropzones fix prices. Healthy competition is a good thing, and will push us all to work toward improving our offerings. Price is not the only tool with which dropzones can compete. I challenge you to evaluate what makes your dropzone unique, and make it your focus for growth. What is your dropzone's value proposition? Adopt the belief that other dropzones do not need to fail in order for you to succeed.
Ripping the bandage
Chicagoland Skydiving Center spent several years trying to get creative with daily deal structures, with the hope that having access to the marketing lists would eventually be beneficial. It wasn't.
Some think we can afford that "luxury" because we are a "big dropzone." I assure you that no one is too big to fail. We struggle to compete in our market as there are a number of budget operators that are running perpetual deeply discounted deals online. These budget dropzones are training customers that they should never pay retail price to skydive. So what happens when even they need to raise prices to stay afloat? Tandem skydiving has become commodotized, because so few dropzones are trying to help customers actually understand what they are buying.
---
I get it, I have a seasonal business, too. Sometimes short-term solutions look more appealing than they should. But we have to play the long game, or this industry will never thrive. Did I start this mess? Sure, blame me if you need to point a finger. But now I'm trying to lead by example in how to make it right.
Chicagoland Skydiving Center has positioned itself to offer a premium skydiving experience for people who are celebrating one of the greatest days of their lives. We make it very clear that we are not the cheapest skydive, but focus instead on being the best and safest. We're willing to walk away from customers who only care about dollars.
If you're looking for a memorable experience with amazing customer service, first class facilities, award winning aircraft, on-site restaurant/bar, complimentary shuttle service, etc. You get the picture. Thousands of people have given us 5-star reviews for a reason. Come see why.