The 2016 season has begun. Hopefully, you were able to join us for USPA Safety Day to get your mind and gear ready to jump this spring. On Saturday, March 12, we gathered for refresher courses, announcements, a series of seminars, and afterparty at our Flight Deck Bar & Grill.
If you weren't able to join us, here's what you missed, and some helpful reminders to review as you get back in the air. Let's have a safe season!
REFRESHER COURSE
We kicked off the morning with separate refresher courses for licensed jumpers and students. Remember uncurrent licensed jumpers will still need to complete a jump with a coach or instructor when getting back in the air. Uncurrent students will need to repeat the last jump completed successfully, and should make a Freefall University appointment for their soonest available jump date.
DZ ANNOUNCEMENTS
President and DZO Douglas Smith offered a look at some of our winter projects, staffing changes, migration to Burble software, and more.
CHES JUDY SAFETY AWARD PRESENTATION
This award recognizes someone who through example, deed, training or innovation, has promoted safe skydiving in a substantive way. We were proud to select AFF Instructor, Coach, CRW Organizer, and all-around mentor Keith Paulsen for this year's honor.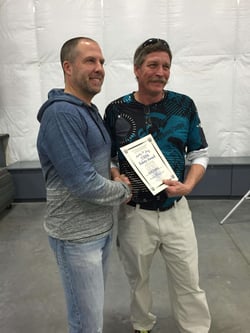 2015 USPA FATALITY REPORT
Chris Rea presented USPA's data on fatal skydiving accidents in 2015. The full slideshow is available for download on USPA's Safety Day website.
AIRCRAFT SAFETY SEMINAR
Douglas Smith discussed procedures for boarding, riding, and exiting skydiving aircraft. Among his key points:
Never approach an airplane from the front or walk under the wing
Avoid walking on runways, taxiways, and aircraft loading areas
Be aware of everyone in the loading area, create barriers as necessary between curious spectators and spinning props
Perform gear checks on yourself and those around you
Seatbelts must be worn for takeoff, and may not be shared
Seatbelts should be removed at altitude instructed by pilot - don't be a roadblock in an emergency exit situation
Know jump run direction, ground speed, exit separation, and location of any other jump planes in the air. If you don't know, ask!
Don't skip spotting before every exit - communicate any clouds or traffic issues to pilot
Remain calm, quiet, and follow pilot directions in an emergency
CANOPY SAFETY SEMINAR
Steve Verner discussed canopy-related safety issues. Each jumper took the USPA Canopy Risk Quotient Quiz.
Know your landing direction, be sure eveyone on the load is in agreement
Discuss who will be using the high-performance landing area and where they will set up
Use the halfway down, halfway back method to decide if you need an alternate landing area
Keep your head on a swivel, be aware of traffic
Fly a predictable pattern
COMMUNICATION SEMINAR
Brad Cole led a discussion about improving communication on every load. We reviewed compass heading degrees and how to navigate with runway numbers. Getting to the loading area earlier to discuss navigation of movement groups, exit order, and landing directions makes everyone safer. This spring, CSC is installing a safety board that will include a map, current wind conditions, jumprun, established lanes for tracking, angles, and wingsuit jumps. Please help us establish high expectations for communication at CSC, and maintain those when jumping elsewhere.
GEAR CHECK WITH A RIGGER
Jumpers performed gear checks with the Rock Sky Market riggers. Before you jump this season, please stop by the loft with your rig to get everything checked out and perform any needed maintenance.
AFTERPARTY
We kicked off the first Chadeo Patio party of the year with the "Not-So-Safe(ty) Day Afterparty." While enjoying food and drinks at the Flight Deck Bar & Grill, jumpers were able to enter the rig building competition. They were given boxes of non-airworthy components and one hour to complete their creations. Contestants modeled for the judges: Chadeo, BJ, and Big D.
Sexiest Winner: Mike Klashna and Jo Beck. Prize: A FREE custom jumpsuit, courtesy of Vertical Suits.
Most Dangerous Winner: Megan Earlywine. Prize: A free reserve repack, courtesy of Rock Sky Market.
Most CSC Pride Winner: Rebecca Mozafaripour. Prize: A $50 gift card, courtesy of the Flight Deck Bar & Grill.