You can only make your first skydive once. Be sure you hang onto the memories with high quality photo and video. Trust us, you'll want to brag to your friends and family about how you jumped out of a perfectly good airplane.
How do you want to remember your first skydive?
Our entire team shoots true HD video (1080p) and high-res stills (10.1mp or higher) with DSLR cameras. No fuzzy screen grabs, you deserve more than that! They are yours to enjoy for any non-commercial use.
We recently updated our multimedia packages to offer our tandem skydivers more choices.
PRO Package
If budget is your primary concern, the PRO Package is for you. You will get 25 high resolution digital photos, shot with instructor hand cam. The perfect profile photo for selfie-lovers everywhere. Here is an example photo taken by one of our tandem instructors: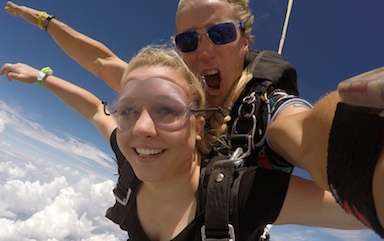 PREMIER Package
Our most popular package is the PREMIER Package. This option lets you choose between HD video OR high resolution still photos, shot by an aerial photographer flying along with you. Here is an example photo taken by one of our aerial photographers: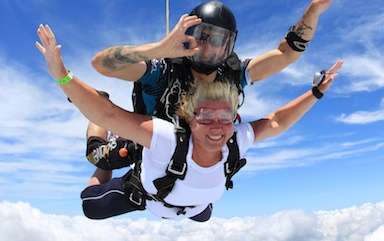 EPIC Package
To get the most footage possible, the EPIC Package, is just that - EPIC! With this package you will receive HD video AND high resolution still photos, shot by an aerial photographer flying along with you. Here is an example of a video shot by one of our aerial photographers:

Answers to common questions about photos and videos:
Can I decide to add video the day of my jump?
Yes. If you have not already selected multimedia when you made your reservation, you will have an opportunity to add a package during your orientation. A videographer will need to be assigned to you when we are organizing plane loads, so we will ask you to decide before we escort you to the hangar to be geared up.
Can I bring my own camera?
No (sorry)! It's a US Parachute Association rule that you cannot carry any kind of camera on a skydive until you are a licensed jumper who has made at least 200 jumps. So, phones, tablets, small sports cameras, anything that records media won't be allowed.
Can my group share a photographer?
We are happy to take pictures of you together on the ground, but a photographer can only accompany one person on an actual skydive. They leave the plane with you so they record your jump, so they are not able to fly back and forth between multiple people in freefall. Each tandem jumper will have separation from others in freefall for safety.
How many photos will I get?
With our PRO Package you will receive 25 high resolution digital photos. With the PREMIER and EPIC Packages, you'll receive approximately 40-60 high resolution photos. Your photographer will take photos before, during, and after your jump so you have memories of the entire experience.
What will the video be like?
You will go home with a fully edited video. There will be a pre-jump interview, footage in the airplane, your freefall, your parachute landing, and a post-jump interview with your first thoughts when you land on the ground. You can't pick your own music, we have tracks that we have purchased for this to make sure your video won't get taken down due to copyright claims. Check out our YouTube channel for tons of examples!
When can I see my photos and video?
Right away. Your video footage is edited together to showcase your jump experience. Your high definition digital media will be ready just a few minutes after your skydive. You will be emailed a link to download your video and photo files allowing you to easily share on social media. Most jumpers can watch and share their experience before they even get in the car to head home. Here is a sample of the email that you will receive: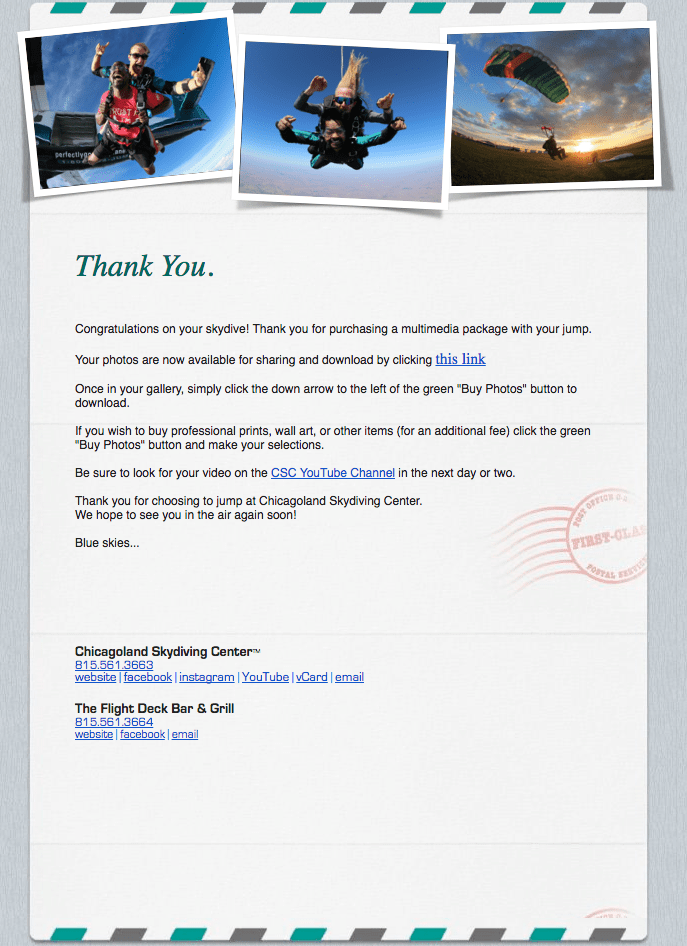 We asked past tandem skydivers their best advice for taking their first jump and they agree, purchasing a multimedia package is worth it to relive the memories with your friends and family. Making your first tandem skydive is an experience you will never want to forget. You'll experience new emotions and energy making the day seem like a whirlwind. Pictures and video will help you remember your skydive.