As you're planning your first skydive, you're probably wondering how much time you'll need to set aside for your big jump.
Taking a "tandem" skydive means that you'll be strapped to a certified tandem jump instructor when you go up in the plane and jump out. Your jump instructor will be the one literally pulling the ropes so that you can go along for the ride and enjoy the thrill.
How long will your skydiving training take? When it comes time to do it, how long will you be in the airplane before it's go-time? Once you take the leap, how long will you be in freefall— and how fast will you drop?
Generally speaking, you can expect a skydive to take 2 - 4 hours from start to finish, beginning when you arrive at a dropzone.
The truth is, the answers to these big questions aren't always the same. There are a few factors that'll influence how long your skydive will last.
In this post, we'll break them down to help you plan your first freefall.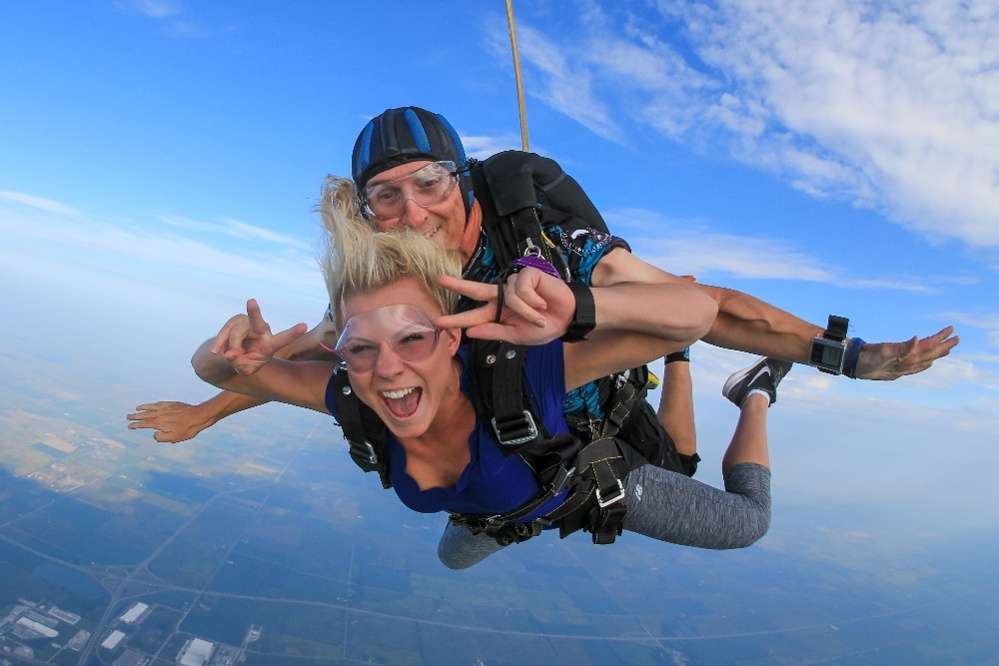 Check-in & Safety Training: 30 to 45 Minutes
Your skydiving appointment will have an arrival time for check-in, which starts with ensuring all of your paperwork is in order. Depending on the size of your group and how busy the jump zone is, it may take a while to get started, but typically not longer than 10 to 20 minutes.
After your paperwork is verified, you'll learn from a 15 to 20 minute orientation video to understand the basics of skydiving safety. You'll also meet and speak with your instructor, who will be the same person jumping with you when you're in the air.
Your instructor will teach you about the parachute as a system and its safety precautions. Even though your instructor will be the one doing all of the work once you jump, it's crucial that you understand and see these safety measures.
Altogether, this preparation process takes less than an hour.
Ground Prep: 10 Minutes
After your training video and tandem instructor introductions, you'll put on your jumpsuit, harness, altimeter, and goggles. Then, you're ready to board.
This typically takes another 10 minutes, depending on the size of your skydiving party. This is also the time when you may start to feel the "butterflies in the stomach" effect, especially if this is your first skydive, so it can also be helpful to talk more with your instructor as you're loading and mentally preparing for your jump.
Ascent in Airplane: 10 to 15 Minutes
Once everyone has boarded, it's time to take off.
Ascending in the aircraft can take a while, depending on the height of the skydive you signed up to take.
For a 9,000 foot jump — the lowest that we offer — it may take about 10 minutes to reach altitude.
For an 18,000 foot jump, it may take about 15 minutes.
These estimates will vary depending on the number of people in the plane, weather conditions, and more, but the ascent rarely takes longer than half an hour.
If you jump with another dropzone, you may find that your ascent can take much longer. Some older-model aircraft may need to take a full 30 minutes to ascend to the proper altitude. At CSC, we use newer models so we can ascend more quickly, among a wide range of safety reasons.
The Freefall: 30 to 90 Seconds
Once you reach your exit altitude, it's time to jump!
When you leave the plane, you'll enter freefall until the parachute deploys.
During the first part of your skydive, a small chute called the drogue will help slow down your descent so you don't fall too quickly. The drogue doubles as a safety device that helps keep you and your instructor in the proper belly-to-ground orientation so that you can maintain control over your dive the whole time.
While your freefall time will vary, you can expect to fall for this long depending on your exit altitude:
9,000 ft: approximately 30 seconds in freefall
14,000 ft: approximately 60 seconds in freefall
18,000 ft: approximately 90 seconds in freefall
During your freefall, you'll accelerate to about 120 miles per hour. Then, your speed will decrease sharply as the parachute is deployed.
Floating with Your Parachute: 5 to 7 Minutes
Your instructor will deploy the main parachute at about 5,000 feet above the ground.
When this happens, you'll float back to the dropzone over the course of about 5 to 7 minutes. During this time, you'll be descending slowly — compared to freefall, anyway — and it'll give you some time to take in a view of the world that few others have ever seen.
Then, with the help of your instructor and our ground team, you'll land safely at the dropzone, thousands of feet below where you were just minutes before!
Post-Landing
Once you've landed, you'll probably have some time to wait, talk with your instructor, and meet with your party before everything is wrapped up.
Regrouping with Your Party
If you planned a group skydiving experience with friends, it's important to note that everyone on your skydiving party will jump separately with their own certified tandem jump instructor for safety reasons. That means that while you can ride up with your party, you will jump far enough away from one another to ensure that a midair collision isn't possible.
Dropzones spread out jumps at precise intervals to ensure your friends can land securely before or after your freefall.
Post-Jump Photos
After everyone is safe and sound on the ground, you can also take some time for photos if you paid for a media package! While videos or photos were taken during your jump freefall, group shots are common after everyone in a party has landed. Depending on the size of your party and the extent of your media package, this can also add a few extra minutes to the tail-end of your tandem experience.
Debriefing with CSC
Once all else is said and done, it's time to take off your gear. This only takes a few minutes.
Following this time, you'll also debrief with CSC to tell us about your experience, say goodbye to your instructor, and start thinking about your next skydive!
Total Time: About 2 Hours
All in all, it takes about two hours to complete a full tandem skydive from your arrival at the dropzone to the full debrief with your instructor.
Afterward, the fun can continue at any other part of CSC, including Flight Deck Bar & Grill, live entertainment, and watching other parties as they land from their jumps.
Prepare for Your First Freefall
Now that you know how long you can expect your tandem skydiving experience to last, you're probably excited to jump right in!
Click the button below to download your free copy of our Complete Guide to Tandem Skydiving.