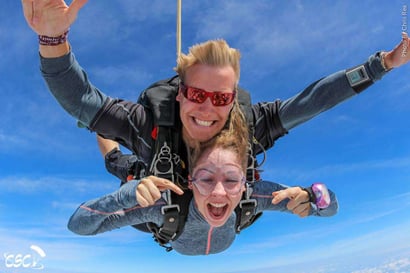 So you've decided to take to the skies. Hooray! We know that there's nothing better than sharing that feeling with friends -- and we want to help. Here's how to motivate your squad to join you in the wild blue yonder:
Fight fear with facts.
Fear is totally normal. The feeling comes more from the uncertainty about the activity than anything else. Luckily, the math proves that the actual risks of tandem skydiving are much milder than your friends might imagine. For example: If we look at just the past decade, with a rate of only 0.003 fatalities per 1,000 jumps, you are more likely to get killed being struck by lightning or stung by a bee. On top of it, Chicagoland Skydiving Center boasts a perfect tandem skydiving safety record, and we're darn proud of it.

Fast-forward to the accomplishment.
Nobody's going to pretend that it's not a crazy feeling to get on a plane, knowing that you'll be jumping out in a few minutes. But remember, that it's just a few minutes of your life that translates to years of memories and pride in the achievement. Remind your friends that the excitement is a key element in the enormous feeling of accomplishment they'll feel when they stand in the landing area -- and that they'll have a whole new perspective on life. (Trust us: It happens every time.)
Many studies show that people who experience adrenaline-filled experiences together, develop a stronger bond. Share the thrill, and enjoy the connection you'll have for life.
Help them understand what to expect.
We're proud of the comprehensive FAQ we've put together to help you with this. We also have compiled advice for first time skydivers, straight from people who have already done it! It covers everything your friends are probably wondering about the process of a skydive, from what to wear to the sensation of freefall. (Spoiler: it's nothing like falling.)
Let them know that they're welcome whether or not they jump.
No worries: it'll be fun for everyone. Chicagoland Skydiving Center was designed to be uniquely spectator-friendly, so everyone can enjoy the overhead activity in comfort (with Wi-Fi, food, and drinks). The courtyard, private tent and patio bar overlook the skydiver landing area. If it's more your style to sip on a cold beer while the crazy people jump from airplanes, that's totally cool.
HOLD YOUR SPOT, PAY WHEN YOU CAN.

Creating a group reservation on our website is easy. You pick the day, time, and number of people, and we'll give you a code you can share with your friends to go online and grab their spot. Anyone who wants to go just needs a $50 deposit up front, so you've still got time for a few more paychecks and home-made lunches to save up the rest. Our website will automatically adjust pricing if you reach the next level for a bigger group discount. Get started with your skydiving reservation.
LET US GIVE YOU A RIDE.

CSC offers round-trip shuttle service to the Elburn Metra Station. No car? No problem. Want to celebrate with your friends post-jump? You've got a designated driver. Details can be found on our shuttle page. Please note that we need a 48 hour notice and a minimum of 3 passengers to run the shuttle.
A shared tandem skydive with close friends is one of the most powerful bonding moments you're ever going to experience. We highly recommend it -- and we want to help! Need an extra boost? Chat to one of our staff for more pep-talk advice.
Load up a plane with your best friends. Find out how!