These days almost everyone has been exposed to skydiving through television, movies, and of course social media. You've probably even heard the term "Tandem Skydive" before, but you may not be sure what it entails or how it works, and most importantly if it's something for you. Do I need to prepare for a jump? How safe is a Tandem Skydive? Is it really that cool?
So let's break down a few details about doing a Tandem and why it has become the easiest way to experience skydiving and begin your journey in the coolest Extreme Sport on the planet.
TANDEM SKYDIVING BASICS
A Tandem Skydive is an extreme sports experience where two people, an instructor and a student, exit an aircraft in flight together attached to a parachute designed for two people via a dual harness system. Your instructor wears the parachute container system on their back with you, the student, attached directly to the parachute harness at the front of your instructor, allowing an unobstructed view of the entire experience.
ABOUT YOUR TANDEM SKYDIVING INSTRUCTOR
In order to take you as a student on your first tandem skydive, your instructor has had to complete intensive training specific to tandems. They will have already earned their status as a professional skydiver with a minimum of 500 skydives and or a minimum of 3 hours in freefall before they are considered qualified to apply for the tandem training course, then gained solid experience taking other skydivers on tandem skydives well before bringing first time jumpers like you into our world.
WHAT TRAINING DO I NEED TO MAKE A TANDEM SKYDIVE?
Here's one of the best parts about tandem skydives - since you'll be jumping with a highly trained and licensed tandem instructor, the training you'll need prior to your jump is minimal. There's no studying or training prior to your arrival required, and you'll be 100% ready to go shortly after arriving at the dropzone!
Once you arrive at the DZ, you'll watch a short orientation video and be briefed by an instructor on how you'll be getting into and, of course, out of the aircraft, how you can assist your instructor in getting the most out of your skydive and what you'll want to do both during freefall and for the landing.
As your instructor gears you up for your jump, they will take the opportunity to teach you about the equipment you'll jumping, the aircraft, and of course your upcoming leap!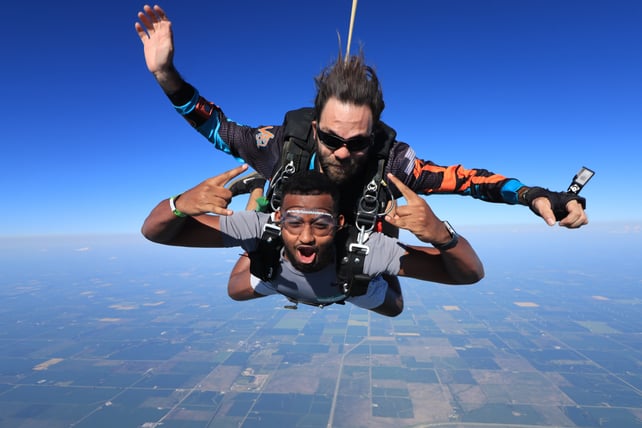 IS TANDEM SKYDIVING SAFE?
If it's your first time, a tandem skydive is absolutely the way to go, and honestly, why would you want to make your first jump any other way? With a tandem skydive, you have the freedom to experience every moment of your first skydive knowing that attached to you is a highly trained professional whose singular responsibility is taking care of the business end of your jump!
In order to make a true "Solo Skydive", you'll be required to complete extensive training consisting of ground school and successfully complete numerous AFF (accelerated freefall) jumps with two instructors and at least 25 total jumps before you'll step off the aircraft on your own. It's a wonderful experience we will happily provide at Freefall University, but it is of course time intensive, which is why testing the skydiving "waters" is best done with a tandem jump.
CAN MY FAMILY AND FRIENDS JUMP AT THE SAME TIME?
Absolutely! Not only does having a group of friends or family join in on the experience make it even more enjoyable, but it will also undoubtedly make the nerves you will experience a whole lot easier to handle. You'll ride the aircraft up to altitude together, enjoy the build-up, the scenery, and the anticipation, rock-paper-scissors to see who goes first, then you and your instructor will hit the air for an incredible experience, meeting up with your friends and family back on the ground!
ALL YOU NEED TO KNOW
If you're interested in signing up for your first tandem skydive, read our other blog on 6 Tandem Jump Tips for First-Time Skydivers to prepare for your first freefall.
Head over to our resource page on tandem skydiving. You can also access this downloadable guide which explains everything you'll need to know about tandem jumping, discuss your equipment, instructor's certifications, and more!