This article is part of the [In Your Words] series. These are real stories, written by real people, who have made a tandem skydive at Chicagoland Skydiving Center. Our goal is to shine light on the many reasons people choose to jump out of perfectly good airplanes. Want to share your story? Email us!
My first skydiving experience was meant to help me celebrate a "vacation." But it turned out to be so much more. Skydiving introduced me to a new friend I never expected I'd meet, at the time I needed it most.
Let me explain. Thanks to three childhood friends, a "3 Things to do Before 30" bucket list, and a well-timed promotion, I took my first tandem skydive on October 4, 2010 at CSC. Ironically, it was never on my individual bucket list, but my friend was a different story. My friend needed someone to go along, and I needed to knock out a third thing before 30. When a daily deal popped up to go skydiving, we were sure the universe was conspiring this scenario.
Clearly, we bought certificates. We made our appointments. Who were we to argue with what the universe wanted for us? Time seemed to pass both quickly and slowly until our big day arrived.
I remember walking onto the dropzone and meeting my tandem instructor. He introduced himself as Paul. He was friendly and funny, and told me a little about himself and what to expect on my jump. As he described his life as an instructor, he said something that will always stick with me: "every day is like a vacation." I couldn't help but ponder what it would be like to live that way.
And then he introduced me to his friend: his friend called skydiving. Paul could sense some nerves, and when it was time for us to go, he led the way to the loading area and said "woman, get on the plane!" I needed to hear that, and I'm glad his sense of humor was present in this moment. Getting on that plane made me experience skydiving - my new forever friend who would ultimately change my life forever.
Bliss comes from living in the moment
Among the million emotions I experienced on my first tandem skydive, what I felt most was bliss. I learned that day, that bliss comes from learning to live in the moment. Despite what society teaches us about security, daily routines, and keeping up with the Jones' - I had a powerful moment of realizing that was not how my life was meant to be lived.
I wanted to live as though every day was a vacation. The instructors and staff I met at the dropzone were proof that this was possible. All of them had faced their fears and given up monotonous jobs and lives in order to live life like a vacation. They were traveling the world year-round, getting paid to meet new people every day, and guide them on one of life's biggest adventures. Sure, it wasn't always easy, and it wasn't as safe as other professions, but they loved every second of it, and you could feel it.
I now understood that skydiving was a friend I could come back to, whenever I needed it.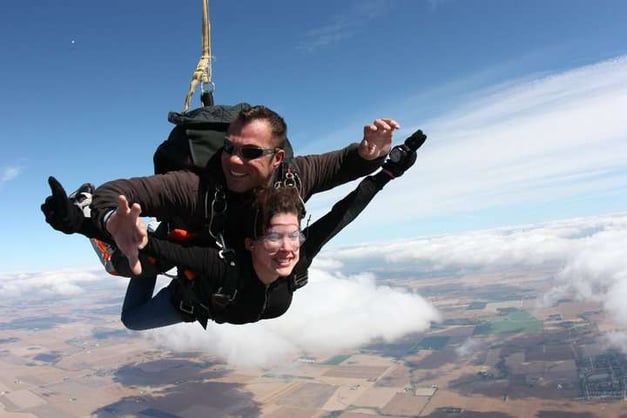 From that day forward...
My life shifted course that day. I decided to try to live each day like a vacation. That didn't mean hanging out of a plane every day for me, but it did mean I was ready to face other fears. I began actively working to make my dreams come true now rather than later. I made time for simple daily pleasures that bring me joy. Because just like a vacation, we are all living on borrowed time. I also decided to pay a visit to my friend skydiving each year, so I would never forget the lesson it taught me.
I went on to complete tandem skydive jumps at Chicagoland Skydiving Center in 2011, 2012, and 2013. Each one marking of a significant moment in life.
They say your second jump is very different from your first, and it's true! I made my second jump in 2011. Things were clearer, I felt more relaxed, and once again felt the jolt of living a dream. Something inside me sparked, and I became inspired to help make my parents' bucket list dream come true. They always wanted to play golf in Pebble Beach, CA. I was motivated to make that happen. I had not planned or even saved up for the trip, but I had a feeling I couldn't shake - they needed to feel what it was like to "take the plunge" and go after their wish. So I booked it. This was going to be the summer our family focused on adventure.
My parents went on their vacation to California in June 2012, and I made my third tandem jump that July. My parents described the bliss of living in the moment, a feeling we loved to share. It was a success, and I felt joy knowing they felt such deep happiness. Unbeknownst to us, this vacation would be my parents' last together, and it would be the last bucket list dream that my mom completed.
The diagnosis
Just a few months later, in October 2012, my mom was diagnosed with stage I breast cancer. It hit our family like a brick. Mom fought for her life over the course of a very difficult winter. She completed treatment in March 2013, hopeful and optimistic. That spring, skydiving found me again. A friend there when I needed it. It seemed like the appropriate way to celebrate my mom's battle. June 2013 marked my 4th tandem jump.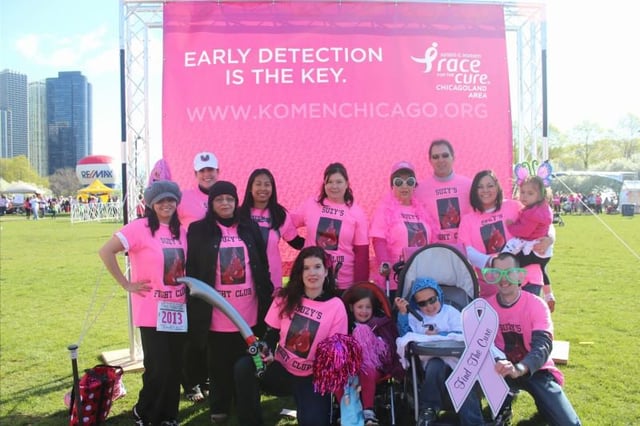 The rest of that summer flew by to be honest. Looking back now, it seems like a blur. November rolled around, and we got the news you never want to get. Her tumor type had been very aggressive, and just didn't let up. She was diagnosed with stage IV breast cancer.
I remember walking down the hallway at the oncologist's office with my parents. In my memory, it happened in slow motion. I remember the faces of the nurses and doctors. They were just as heartbroken as we were.
I suddenly felt like I was making my first tandem again. I was scared, unsure, a little helpless. My stomach dropped a bit with each step. I hoped my legs wouldn't buckle. I tried to mask the fear on my face. How in the world did we end up here? What was waiting on the other side of the door? I had so many questions, but knew one thing for sure: life would never be the same.
Life after Mom
We got a few more months with her. In May 2014, my mom passed away.
I used to talk to my mom and dad before and after every single tandem jump I did. They were the first people I wanted to talk about it with. My mom never got to skydive, but she loved hearing about it. She always encouraged me when I said I wanted to jump again. I remember once, as she watched a seagull soar over us in the sky she said to me "that must be why you do it." She understood.
Life felt different after I lost my mom. I visited CSC a couple months after she passed, hoping for a few moments of peace at my happy place. But I didn't jump. I couldn't do it without her, the joy was gone. My enjoyment of skydiving was too closely associated with the memory of my mom, and that wound was still fresh.
I enjoyed watching others jump. My friend skydiving was meeting new people - giving amazing memories to new tandem students, changing their lives as he had once changed mine. But it felt different somehow. I walked away that day, having decided never to go back.
My friend didn't give up on me
I heard a saying once, that "we meet three types of friends in life: friends for a reason, friends for a season, and friends for a lifetime." There is no doubt I met my friend skydiving 6 years ago for a reason. He knew long before I did what that reason was, to learn to celebrate this vacation called "life" during the best and even worst times.
Even after I decided I was done with it, like a good friend, skydiving would not walk away from me. In October 2014, I found myself drawn towards indoor skydiving at iFly Chicago. After my first minute in the tunnel, I felt it again. The bliss. This time, I never stopped, and I continue to fly regularly today in adult tunnel league. It's a place I've been able to introduce flight to more people I love: my dad, uncle, and 14 of my dearest friends. Just like before, I watched skydiving change their lives and restore joy to mine.
This summer (2017), I will go back to CSC to make my 5th and final tandem skydive. It will be in honor of my mom and dad, and to say "thank you" to my dear friend, skydiving.